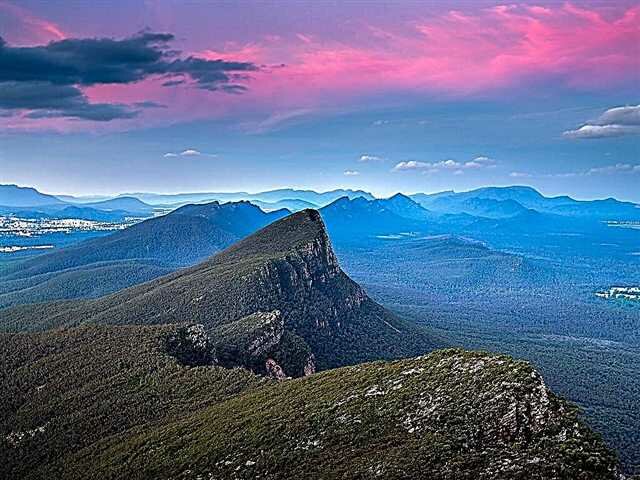 While humankind has made its mark on the planet, many areas remain protected, and for good reason — the 57,268,900 square miles of Earth contain such biodiversity that one can't fathom everything that's out there. The menagerie of plants and animals sharing space on our world is overwhelming. Equally impressive is the array of geological formations, waterways, and forests providing habitat for such a diverse collection of species.
Check out these 25 scenic natural parks, reserves, and protected areas that show us the tip of the iceberg.

1
Antarctica
Over 30,000 people visit Antarctica yearly, though only a small percentage of them actually land on the continent. Those brave enough (and willing to adhere to strict rules, often including no bathroom usage) can spend the night camping in the cold, a worthy exchange for sights of the midnight sun and emperor penguins.
(via)

2
Vatnajökull National Park (Iceland)
Vatnajökull National Park (home to the ice caves of Skaftafell, Svartifoss waterfall, and Europe's largest glacier, Vatnajökull) is only accessible by foot. During the summer, hikers often find themselves knee-deep in the streams of the park in order to continue on the trail.
(via)

3
Kruger National Park (South Africa)
Kruger National Park covers a massive 7,580 square miles of northeastern South Africa, allowing the 147 species of mammals (including 1,500,000 impalas) plenty of room to roam. The park contains 21 rest camps, which are affordable and open to all visitors, making them quite popular with the backpacker crowd looking to wake up to an African elephant at the front door.
(via)

4
Guilin and Lijiang River National Park (China)
Adventurers can take a 30-mile boat ride on the Li River in the Guilin and Lijiang River National Park, which is famous for its green hills and heavily eroded limestone karsts reminiscent of Ha Long Bay. Cormorant fishermen use trained cormorants – birds adept at diving and swimming underwater – to catch fish in the river. (It's often noted that this practice mainly serves as a tourism attraction today).
(via)

5
Doñana National Park (Spain)
Doñana National Park, a nature reserve (famous for its birdwatching) in Andalusia, Spain, is renowned for its unique biodiversity – 127 non-marine bird species are known to spend their nesting seasons within the park. Many environmental issues have threatened the flora and fauna of the park, prompting UNESCO to review it for potential placement on its "List of World Heritage in Danger."
(via)

6
Galápagos National Park (Ecuador)
97% of the Galápagos Islands are designated as a national park, and with good reason: The islands are home to numerous endemic species. One of the best-known species of animals on the islands is the Galápagos tortoise.
(via)

7
Joshua Tree National Park (United States)
Situated in Southern California's Mojave Desert, Joshua Tree National Park (which actually isn't the site of U2's album cover) gets its name from the Joshua Trees that grow throughout the area. While the rock climbing here is legendary, Joshua Tree's stargazing potential is where it truly shines – clear skies with little to no light pollution attract photographers in droves.
(via)

8
Hwange National Park (Zimbabwe)
Hwange National Park is the largest game reserve in Zimbabwe, situated near the famous Victoria Falls. One of the largest populations of African wild dogs (Lycaon pictus for those wondering) lives within the park. Additionally, the elephant population has grown so much that park authorities are trying to find a solution to the overpopulation issue.
(via)

9
Pisgah National Forest (United States)
A national forest in North Carolina's Appalachian Mountains, Pisgah National Forest spans over 512,750 acres of mountains and pockets of ancient old-growth forests, and has great paddling, hiking, and biking. The first school of forestry in the US was located in modern-day Pisgah National Forest. The school helped spawn the US Forest Service, which currently administers all US forest land.
(via)

10
Banff National Park (Canada)
During peak season at Banff National Park, nearly 2,500 campsites spread out over 13 campgrounds are occupied. Despite the potential for nighttime temperatures to drop below 0 degrees Celsius, Alberta's Banff National Park remains one of the most-visited parks on the planet. Hordes of visitors flock to Banff to paddle on the lakes; those who prefer to stay on solid ground have over 1,000 miles of hiking trails to choose from.
(via)

11
Grampians National Park (Australia)
The Grampians can be found 146 miles west of Melbourne. The park has several major attractions: Its wildflowers alone draw tourists in the spring, while rock climbers frequent the park for its geological formations. Hikers who reach the sandstone peaks are rewarded with panoramic bird's-eye views of Halls Gap and Lake Bellfield below.
(via)

12
Huascarán National Park (Peru)
Found high in the Andes, Huascaran National Park is a UNESCO World Heritage Site and home to Peru's highest mountain, Huascarán. The park attracts both novice and expert mountaineers. Additionally, a diverse set of wildlife can be found in the region – many cougars, jaguars, vicunas, and tapir call the park home.
(via)

13
Na Pali Coast State Wilderness Park (United States)
Na Pali Coast State Wilderness Park is situated on the Hawaiian island of Kaua'i. Home to the demanding 11-mile Kalalau Trail, the state park provides hikers with aerial views of the Pacific Ocean's blue waters and rich, green vegetation-laden coastline. The na pali, high cliffs, hit elevations of roughly 4,000 feet above sea level.
(via)

14
Tayrona National Natural Park (Colombia)
Tayrona is located on Colombia's Caribbean coast. It's extremely popular for birdwatching, as 300 species live within it. Additionally, the park has diverse flora, fauna, and geological features that range from the mountainous regions of the Sierra Nevada de Santa Marta to the beach-covered coastline. Reefs can be found offshore.
(via)

15
Snowdonia National Park
Over 26,000 people live within Snowdonia National Park, but it draws over 6,000,000 visitors annually. Roughly half stay within the park for an extended period of time – the 823 square miles are a lot to cover (but in reality, 69.9% of park lands are private). A large majority of hikers trek Snowdon, Wales' highest mountain, despite the area being one of the country's wettest.
Photo: Richard0


16
Terra Nova National Park (Canada)
On the east coast of Newfoundland sits Terra Nova National Park, which takes its name form Newfoundland's Latin translation. It has several campgrounds, allowing for a lengthy stay and ample time to hike, canoe, and kayak. In nearby Newman Sound, moon jellyfish and snow crab can be seen via boat tours.
(via)

17
Kosciuszko National Park (Australia)
Tucked in the southeastern corner of New South Wales, Kosciuszko National Park is home to mainland Australia's highest peak, Mount Kosciuszko (7,310 feet). Skiers can visit one of the many ski villages that comprise Perisher Ski Resort, while the Australian Alps Walking Track is popular for summertime hiking.
(via)

18
Khao Sam Roi Yot National Park (Thailand)
An apt description for the national park and its landscape, Khao Sam Roi Yot means "mountains with 300 peaks." Vegetation-covered limestone hills, freshwater marshes, and white sand beaches are found throughout the park. Adventurers looking to get a little shade can visit Phraya Nakhon cave (pictured), in which a pavilion was built for King Chulalongkorn's 1890 visit.
(via)

19
Gros Morne National Park (Canada)
Gros Morne National Park is an outlying mountain range of the Appalachians, located on the western coast of Newfoundland. Due to its geological history and scenery, the park was recognized as a World Heritage Site by UNESCO. There is no shortage of hiking, as there are roughly 20 marked trails. Many of the park's rock formations are made of Precambrian granite and Paleozoic igneous rock.
(via)

20
Etosha National Park (Namibia)
Covering an area of 8,600 square miles, Etosha National Park spans the large majority of the Etosha pan (a vast salt flat). It's home to common and rare species of mammal, including both the white rhinoceros and black rhinoceros. Lodges and campsites with game-proof fences can be found within Etosha.
(via)

21
Mitchell River National Park (Australia)
Only accessible by four-wheel-drive vehicle, Mitchell River National Park's beauty makes the bumpy ride worth it – over 50 species of mammal, 220 species of bird, and 86 species of amphibian and reptile live within the boundaries. Bushwalking and swimming are the main activities as there are forests and plunge pools all over the park's 284,970 acres.
(via)

22
Chobe National Park (Botswana)
Botswana's first national park, Chobe is often divided into four regions classified by ecosystem. Throughout the park, the scenery changes from woodlands to floodplains to marshes to dry hinterlands. With several campsites within Chobe National Park, visitors have many opportunities to watch a number of the roughly 50,000 elephants living in the park go about their business.
(via)

23
Isle of Arran (Scotland)
The Isle of Arran has been continuously inhabited since the Neolithic period, though the "clearances" of the Scottish Highlands led to a depopulation of the area (which has since recovered greatly due to tourism). The isle is covered with hills and valleys, though the main tourist attraction is Brodick Castle. Those not satisfied with the Isle of Arran's natural beauty can visit the Arran Distillery and the Arran Brewery for some extra "motivation."
(via)
Watch the video: 100 Most Beautiful Places To Visit Before You Die (October 2020).